There are times when you want sushi, but the daily routine, work schedule and other factors do not allow us to go to sushi restaurants. At this time, sushi restaurants, where there is a sushi delivery, facilitate our work.
There are dozens of sushi restaurants competing with each other in Baku. Everyone is trying to stand out for sushi rolls and service. Of course, all this is to the benefit of lovers of sushi.
So, what should be a sushi delivery service? In general, which restaurant offers the best sushi delivery service? In this article you can get detailed answers to questions about the delivery of sushi.
What should I look for in the Sushi Delivery Service?
In the sushi delivery service you should pay attention to a few things. Let's take a closer look.
Receive orders without delay.
Sushi is a dish that our heart can desire at any time. At this point it should be possible to order sushi by phone or online. From the restaurant side the order should be accepted as soon as possible. (Sushi restaurants that care about customer satisfaction, as soon as possible contact customers to confirm the order.)
Fast deliver.
One of the most important factors in the sushi delivery service is the fast delivery of our order no matter where we are. Of course, when we order sushi, its preparation and delivery takes some time. This is the minimum time that is desirable for us. Sushi delivery in Baku varies in time depending on the order address.
Convenient payment methods during delivery.
After delivery of the order by courier may have problems with payment. For example, you may want to pay with a card or you may need to return the change from the payment. At this stage, the courier should be ready for all such situations. It must be possible to pay by the terminal or the courier must have the necessary cash with him to return the change from the amount. This will save us from further problems.
Which sushi restaurant provides the best sushi delivery service in Baku?
There are quite a few sushi restaurants in Baku. And how do we find out which of these restaurants are the best in both sushi preparation and services. We can check everything one by one, but it will not be beneficial for us. Therefore, we must listen to the advice of sushi lovers who love delicious sushi and comfort.
I present to you the sushi restaurant Bake & Roll Sushi Bar, which stands out for serving people and preparing dishes.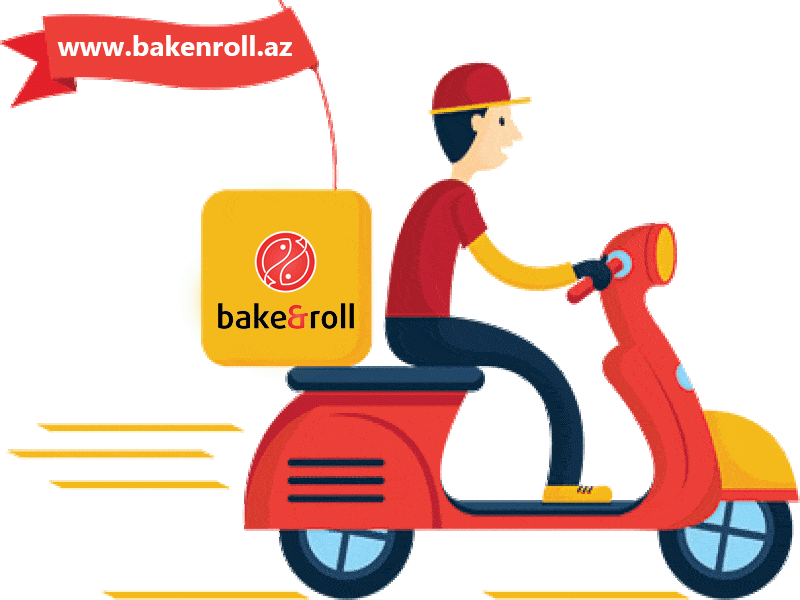 Bake&Roll Sushi Restaurant is the place where since 2015 a team of professionals has been working in Baku. Judging by the reviews of many visitors, this place is quite famous among sushi restaurants in Baku. (Customer feedback is always important to attention and important to consider.)
Now let's look at the services of sushi restaurant Bake&Roll.
Taking orders for each day of the week.
Orders are accepted seven days a week (including holidays) seven days a week. You can place your order by calling, as well as online at the restaurant's website. You can also use the service "Callback" on the site. You can also enter and send your contact information by clicking the "Call" button. (You can also choose the time when the operator should contact you). Then the restaurant operator will contact you and take your order.
Sushi delivery to Metro and Areas.
Sushi restaurant Bake&Roll provides sushi delivery services in Baku to the metro and districts. Since the distance to some suburbs is very large, the minimum order amount for sushi delivery was set. You can find detailed information on delivery times and the minimum order amount for cities and suburbs in the Free Sushi Shipping section.
Free shipping orders.
Most sushi restaurants in Baku require additional payment for delivery. In addition to the order amount, invoice will be additionally included shipping costs, depending on the distance to which the order will be delivered. However, the restaurant Bake & Roll Sushi does not require an additional charge for delivery. Even if you order from the site, if you yourself take the order from the restaurant, you get a discount of 5% of the total purchase amount.
Convenient payment methods.
Above, you were able to read the article titled "What should be the Sushi Delivery Service", which highlights the problems that you may encounter in choosing a delivery service. Sushi Restaurant Bake&Roll offers customers an excellent opportunity to avoid these problems.

You will not encounter any of the above problems when placing an online order or when you order a delivery by telephone. Just tell the operator or choose on the site that you want to pay by card or requires a surcharge from a large amount. The courier of the restaurant will take you to the pos-terminal or will have with you enough money for delivery.
---
So, we were introduced to the sushi restaurant Bake&Roll, which professionally deals with sushi delivery. Practically all clients admire with services. More importantly, the taste of food is as excellent as the level of service. By visiting the site www.bakenroll.az, you can order sushi for home or work. To order discounted sushi rolls, go to the Menu section. You will see many affordable prices. And this is one of the main factors for sushi lovers to have a smile on their face.
If you are looking for a recommended restaurant, where you can go and eat delicious sushi, we advise you to read the article "The most recommended sushi restaurant in Baku". Thus, you will be fully aware of how to choose a sushi restaurant.