Noodles (WOK dishes) are by far one of the most famous dishes in Chinese cuisine. If you like to eat tasty and healthy food, in this article we will talk about noodles and woks in detail and in detail.
What is WOK Noodles? What You Need to Know about WOK Noodles?
🍜 WOK Noodles – as strange as it may sound, in fact it is the well-known noodles (main part) and the rest of the dish consisting of vegetables and other fillings. When we first hear about Noodles, we can perceive the name as strange as 🍣 Sushi but, Noodles are such a dish that will suit everyone both in terms of taste and regardless of age.
Noodles - Difference and Features.
Noodle dishes, why is this dish so famous? The answer to this question is contained in several points below.
Quick and easy to prepare: if all the products used in cooking are at hand, then the whole process will take no more than 12-15 minutes.
Eating up fast: 1 box of Asian noodles is enough for a snack all day. Dough, meat, vegetables and an abundance of different sauces in 1 box of noodles is enough for 1 person. By the way, Noodles or Fried Rice, it doesn't matter, we advise you to eat it hot (for a richer taste).
Variety in taste: noodles may vary depending on your taste preference or the availability of ingredients.
Unusual, special kind of food: sometimes we want to try something unusual and tasty. It is at this moment that the order of noodles can fill, then the desire for the unusual and tasty.
Noodles (also called wok) History
Despite the fact that Noodles appeared 2,000 years ago in China, the noodles have gained worldwide fame approximately over the past 100 years. Noodles or WOK Noodles are named after a frying pan called WOK. WOK dishes received a special design in the box not in China, but thanks to the Americans.
By the way, earlier wok noodles had a completely different look. If now Japanese noodles are long and thin, then in ancient times, ready-made small pieces of dough were filled into a wok.
Ingredients and Types of Noodles in WOK Preparation
The types of Wok Noodles are very varied and delicious. It prepares very quickly and is quite applicable for daily meals. A special feature of wok dishes is the preparation of food components under high temperature in a wok pan.
Below are the ingredients used in making Asian-style noodles:
Vegetables;
Mushrooms;
Seafood;
Fish;
Chicken;
Meat.
The composition of the noodle dough is not always the same. In fact, there are several types of noodle dough. The most commonly used Types of Noodles are listed below:
Udon Noodle
Udon Noodles are a type of noodle made from wheat flour and have a longer and thinner structure. A feature of this test is the absence of eggs in the noodles. The result is a dough similar to spaghetti, the texture of which is soft and tender, and the additions quite agree in taste
Somen Noodles
Somen Noodles - not every kitchen can find these noodles because of the thin, capricious and tender dough. Due to its subtlety, the dough is cooked in just 3 minutes. Somen noodles are more often taken cold, but without the use of sauces. Sauces and spices are provided separately from the noodles so that sauces can be added to taste.
Ramen Noodles (Egg Noodles)
Ramen Noodles are a type of wheat noodles that contain an egg. After adding egg yolk noodles to the finished dough, the noodles acquire a delicious yellow color. It is considered ideal for making wok noodles and goes well with any sauce and addition.
Funchoza Noodles
Funchoza Noodles are a completely different type of pasta. Asians call these noodles "Glass Noodles" because of the transparent structure of the dough. Funchoza is not cooked, just pour boiling water over the noodles. It is widely used in Asian street food.
Rice Noodles
Many people think that Rice Noodles and Funchoza are one and the same dish. In fact, this is not the case. Rice noodles are whitish in color and neutral in taste and smell. This is why rice noodles are taken both cold and hot.
Soba Noodles
Soba Noodles are made from buckwheat noodles and therefore have a brownish dough color. Ideal for cooking with vegetables, poultry and fish.
What Kinds of Asian Noodles (WOK) Will You Love The First Time?
We already understand the types of noodles that are tastier than each other. But which wok is the best for us in terms of taste?
Let's take a look at the most delicious types of noodles together.
🍜 5 Most Delicious Noodles
Note: for an overview of other delicious WOK dishes from Rice and Noodles, see the Rice and Noodles section of our menu.
🍹 Recommended Drinks To Make Noodles Dishes More Delicious
Note: Other Recommended Drinks can be viewed in the Drinks Section of our Menu.
🛒 Where Can You Order The Tastiest Noodles At The Most Acceptable Price
Above, we talked about the Types of Noodles and their Features. Now, when reminding these delicious dishes, one thought comes to mind: Where can I order delivery of delicious and healthy noodles?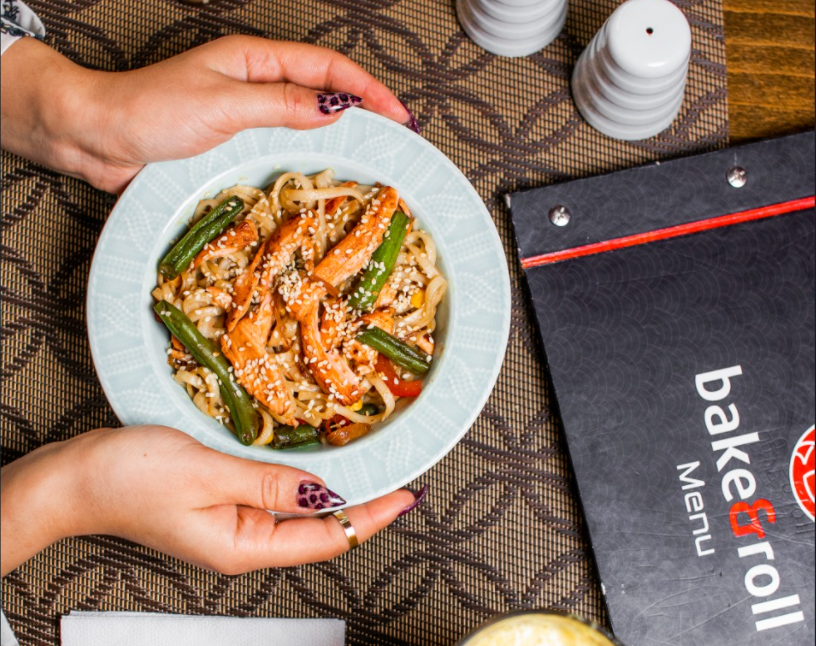 🍱 Most Recommended Place to Order Sushi and WOK: Bake
&

Roll Sushi Bar

Bakenroll Sushi Bar can be said to be the most preferred Modern Asian Cuisine restaurant in Baku. This is one of the rare restaurants in Baku that has retained a good reputation both in service and in the quality of food prepared.

Note: Every Thursday of the week there is an event #UNLIMITED #NOODLES. For more information, we recommend that you follow the link "Unlimited Noodle Day".

BakenRoll, also pays close attention to convenient online ordering delivery of Noodles and Sushi.

BakenRoll provides you with several options for online delivery.
1) 🌐 Online Noodle Delivery
By going to the Bakenroll.az website in the Noodles and Rice section, you can order WOK Noodles for every taste and color. To do this, after adding your favorite noodles to the basket, it is enough to indicate the name, number, address and several items for ordering.
2) ☎️ Noodle Delivery by Call
If you want to arrange delivery by contacting the operator directly, then by choosing one of the numbers from the upper corner in the "Requisites" section, you can call us.
3) 📞 Order Noodles Using "Call Me" Method
Having entered our site, at the very top or very bottom, you will notice the "Call Me" buttons. By clicking this button you will open a short form where you need to fill in the name, number, and time when you need to call you back. BakenRoll Sushi Bar staff will call you as soon as possible.
Note: when placing an order for delivery, in the section for filling in the fields, you can choose the option to pay in cash or by a poster terminal, as well as transfer the payment method when communicating with the operator.
Your order will be delivered as soon as possible.
In the section "About Our Delivery Service" you can get detailed information.
---
In addition: we recommend reading other interesting articles.