As you know, all over the world Sushi is one of the most recognizable and favorite dishes of Japanese cuisine. No matter how many are alien Sushi to Azerbaijan national cuisine, recently they have become popular among a wide range of people. That is why, in this article we will talk about making Sushi in Azerbaijan, about serving sushi on the table, and in general, a lot of interesting things about this tasty dish.
As noted above, recently Sushi in Azerbaijan has become a rather famous and beloved dish. Every day more and more people learn about sushi. Very often, after the first careful tasting, sushi turns into a list of favorite dishes.
Those who have the time and opportunity, go directly to sushi restaurants, and make orders for one tastier than another sushi rolls. Sushi lovers know what they want and what they like best to eat. And those who try sushi for the first time, as expected, are looking for answers to their questions. Let's answer some questions from them.
How to making sushi?
First of all, it should be noted that there are dozens of types of sushi and despite the fact that they may seem the same at first glance, each of them has a special way of making sushi.
To make sushi, first of all, you need special rice for sushi. Of course, you will not find real rice for sushi in ordinary stores. Rice for sushi and other ingredients for Asian cuisine can easily be bought from the official importer of these products to Azerbaijan, "BakuProd" CJSC. In addition, for the preparation of sushi are required dried seaweed (Nori) and rice vinegar.
Rice vinegar - gives elasticity to cooked or semi cooked rice. There are a lot of ingredients added to the sushi. Of these, cucumbers, avocados, flying fish roe, smoked salmon and unagi fish, tuna, crab sticks, shrimp and other ocean products. The composition of such famous sushi rolls as Philadelphia sushi in regular or hot form necessarily includes cream cheese.
To distribute even slices of salmon on sushi and evenly divide the rolls, you will also definitely need a special sushi knife. A feature of sushi knife is that the cutting edge of the knife is one-sided and has a flat plane.
Rice for sushi should be washed several times in ice water. Only after the rice becomes transparent and free of dust particles is it placed in the rice cooker and poured with clean water. It is not allowed to open the rice cooker until rice is completely cooked, and it is also not allowed to mix the rice without adding rice vinegar. Vinegar, sugar and very little salt are added to the finished rice in standard proportions. After all these procedures, the finished rice is left to "rest" for 1 hour, to completely absorb all the additives in the rice.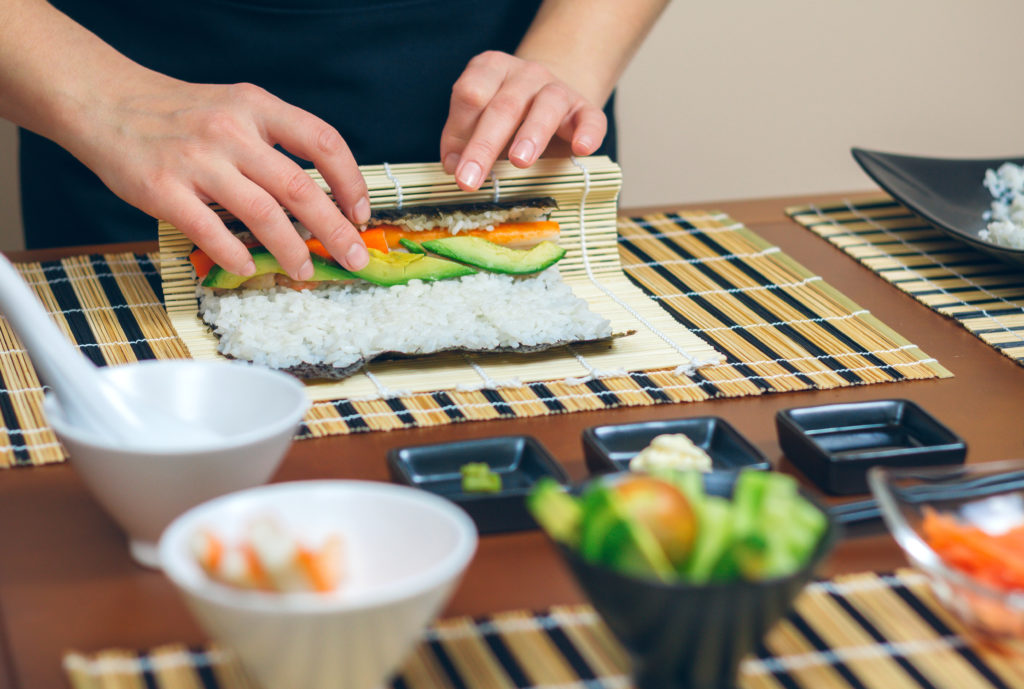 An interesting composition is another important aspect for making delicious sushi. In this sense, the most important combination of tastes. If we use fish, then the fish must be cleaned from bones with tweezers. Crab sticks, avocados, cucumbers - each ingredient has its own slicing method.
Shrimp sushi is prepared primarily by peeling the shrimp and the inside of the shrimp. If you want to make sushi with a Japanese omelet (for example TAMAGO Sushi Roll) you will need eggs, soy sauce, sugar and salt.
Any product can be added to sushi. As the popularity of sushi in Azerbaijan increases, the variety and options for making sushi also increase. Recently, one of the most frequently ordered sushi has become those that include chicken fillet and smoked turkey.
In sushi rolls with vegetables (vegetarian sushi roll), you can also add tofu cheese or tofu cottage cheese. It is important that what you add as an ingredient in sushi is sliced correctly (along).
To make any kind of sushi, we will need bamboo makisu. Makisu - needed to give the right shape and compress the land.
As for the sushi preparation process itself, open 1 sheet of nori on the makisu (with the rough side inward), with clean and wet hands, collect a lump of rice and open it on the nori. (Caution, hands should be wet so that rice does not stick to hands). In the already opened rice on the nori, add the ingredients that were intended as a filling. Now you can twist the makisu and give a round or square shape to your roll
After completing the process of making sushi, we begin another procedure, the correct serving of sushi on the table. Now let's look at how sushi is served on the table.
How is sushi served on the table?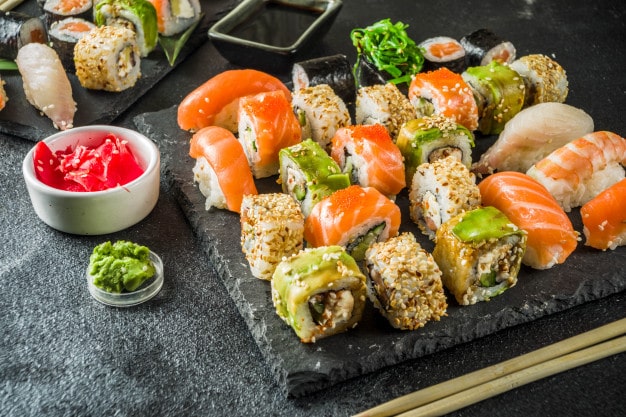 As well as traditions and procedures for making sushi, there are rules for serving sushi on the table. For example, sushi set or sushi per person is served in special dishes.
In addition to sushi, soy sauce, wasabi and ginger are also served. This is all laid on the table to add extra flavor to sushi.
Soy sauce: the most famous sauce in Japanese cuisine, where sushi is eaten after savoring the rolls in the sauce. Even without them, an appetizing aroma from sushi remains.
Wasabi, Japanese horseradish: for lovers of hot and peppery it will be the sharpest horseradish. And those who do not like spicy, we advise you not to even try wasabi. Because after taking wasabi you will have to drink a lot of water :)
Ginger: one of the most interesting sushi additives. At first use, it seems like a strange taste, but after a couple of times, almost everyone likes it. Ginger is used mainly when taking different types of sushi, so between meals you have a bite of ginger and nullify the taste buds. Thus, if you ordered a sushi set with a different composition of rolls, having a snack between the rolls of ginger, we will be able to get a new taste and pleasure every time.
How to eat sushi?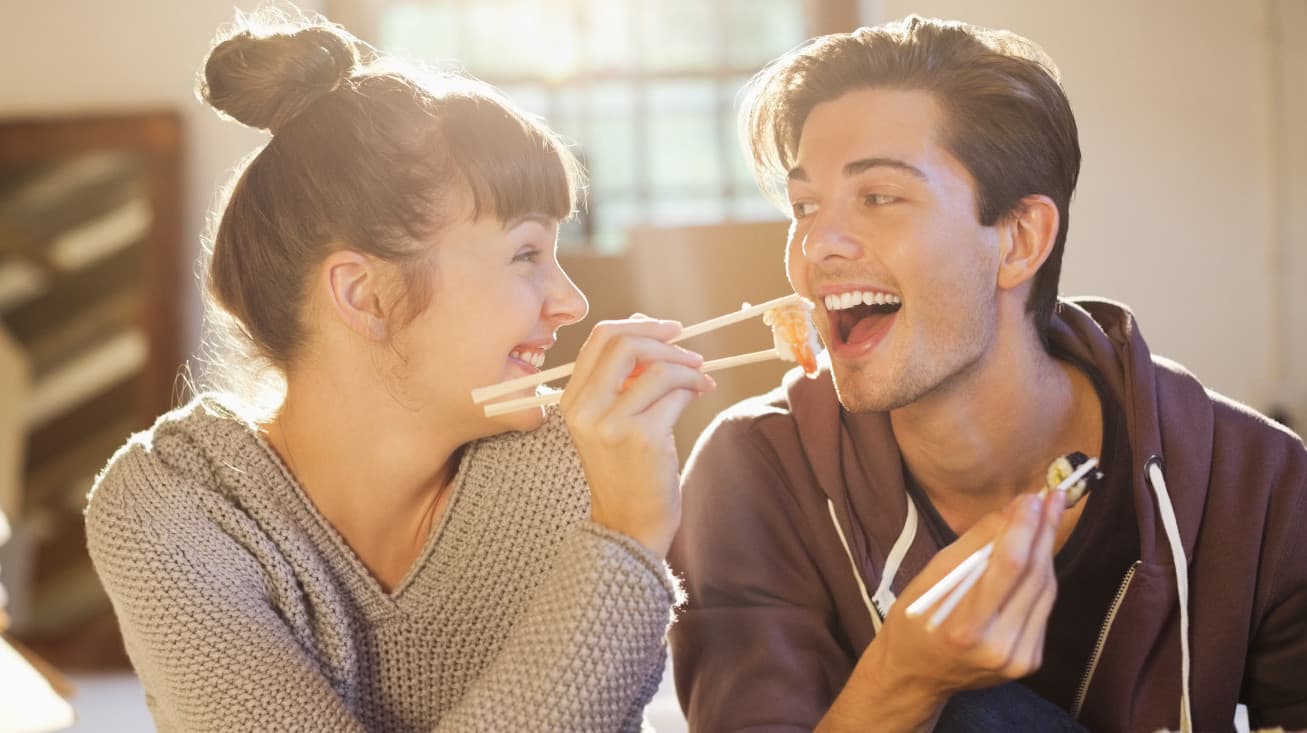 There is really no concrete answer to this question. After serving sushi on the table, everyone can eat sushi as they can. Despite the rules of sushi service on the table, there are no clear settings for receiving sushi as sushi. But, if you can use sushi with chopsticks (Waribashi), then the process of eating sushi will be more interesting.
For the first time, using chopsticks for sushi is very difficult. You can even say that the first few times seem difficult for the average person. But later, you get used to it, and taking sushi with chopsticks is a special pleasure. In order to learn how to use chopsticks, just follow the link and watch the video. If you don't have sushi sticks on hand, you can easily use ordinary pencils.
What types of sushi are recommended for the first try?
As always, the hardest part is to try. What is? as it is? with what? Often, when we do not have answers to questions, we remain alarmed by ignorance. But there is no reason for concern, everything happens once for the first time. The most important thing is to be as knowledgeable and know what we want. Types of sushi are diverse. You can make sushi from almost everything. But if you try for the first time, just be selective. To do this, you can read our article about the 10 most delicious sushi and you will be sufficiently informed about sushi (but only after you read this article to the end 😉).
What drinks are better to take with sushi?
When taking sushi, it is best to drink fresh and aromatic drinks. If the drink is with a sugary taste, then you may not feel the taste of sushi due to the abundance of taste in the drink. The list below shows drinks that do not mix tastes and you can get the most out of your taste.
In this article, we have tried to provide you with as much information as possible. For the proper preparation of sushi, you need interest, experience, and desire. Not every person has all three properties at the same time. If you don't want to spend your precious time preparing sushi, and prefer to relax in a reputable restaurant and enjoy delicious dishes, we recommend that you read our article Best Sushi Restaurant in Baku and find out information about the most profitable sushi restaurant.
---
Later, you can leave your opinion in the comments section or share knowledge in the field of sushi preparation. Let in sushi, your "trace" will remain 🤗